St. Katherine Greek Orthodox Church & Greek Festival
/
home
/greek-orthodox-detail/
St. Katherine Greek Orthodox Church
2716 N. Dobson Road
Chandler, AZ 85224 USA
Tel: (480) 899-3330
Church Website...
Greek Festival Details for Chandler, AZ*
Friday:

9/30/2016

5:00 PM - 10:00 PM
Saturday:

10/1/2016

11:00 AM - 10:00 PM
Sunday:

10/2/2016

11:00 AM - 7:00 PM
Greek Food Fest Hellenic Glendi Location
Greek Festival Website...
Greek Products for Sale
Greek Halva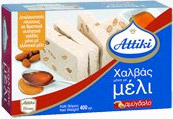 Click here...
*Note: Contact this church or visit their website to confirm their festival's dates, times, and location.
Festival Description
Greek Festival of Chandler! Classic Celebration of Greek Food, Dance, and Fun for ALL! St. Katherine Greek Orthodox Church transforms into a mini "Greek Village". Just south of Elliott & Dobson.
What Next?