Travel Argo-Saronic Islands, Greece
Travel Area: Argo-Saronic Islands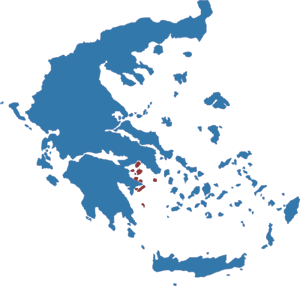 About Argo-Saronic Islands, Greece
The Argo-Saronic Islands are located in the Saronic and Argolic Gulfs of Greece. Their proximity to Piraeus and Athens makes the islands of Aegina, Hydra, Agistri, Spetses, Salamina, and Poros popular locations for local weekend getaways and convenient tourist destinations.
Fun Facts
• Aegina is the largest of the Argo-Saronic Islands.
• Spetses is home to a large number of neoclassical buildings.
• Cars are not allowed on Hydra Island.
Sightseeing Suggestions
• Temple of Apollo and the Archaeological Museum on Aegina.
• Church Of Agioi Anargyroi on Agistri.
• Manor-houses of Koudouriotis, Boudouris, Miaoulis and Tobazis on Idra.
• Monasteries of Profitis Ilias, Agia Efpraxia, Agia Triada in Idra.
• Clock tower on Poros.
• Monastery of Zoodohos Pigi on Poros.
• Manor-houses of Bouboulina and Botsaris in Spetses.
• Anargirios-Korgialenios School in Spetses.
• Faros lighthouse and the church of Panagia tis Armatas in Spetses.
• Monastery of Agion Padon in Spetses.
• Cave of Bekiris near Agion Anargiron beach in Spetses.
• The hot natural spring waters of Vromolimni.
Transportation
• Regular ferry boats go to and from the port of Pireaus and between the Argo-Saronic Islands.
• Taxis, rental cars, or carriages provide transportation on the islands.