Travel Crete, Greece
Travel Area: Crete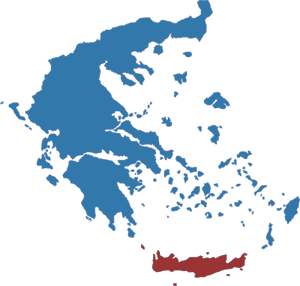 About Crete, Greece
Crete was the center of the Ancient Minoan civilization, the oldest Greek and European civilization. It is a mountainous island that also boasts a 1,000 kilometers of soft, sandy beaches along the blue Mediterranean Sea.
Fun Facts
• Crete is the largest Island in Greece and the fifth largest in the Mediterranean Sea.
• Crete consists of the Prefectures of Chania, Rethymno, Iraklio (Heraklio), and Lasithi.
• Crete is approximately 250 kilometers in length from west to east.
• Crete's olive trees produces olive oil for worldwide distribution.
Sightseeing Suggestions
• The Palace of Knossos, remnants of the Minoan civilization.
• Gortyn with the Temple of Pythian Apollo and the sanctuary of the Egyptian deities Isis and Serapis.
• Iraklio (Heraklion), the largest city on the island of Crete.
• The many museums of Crete.
• Swimming and snorkeling the beautiful beaches of Crete.
Transportation
• Olympic Airlines and Aegean Airlines provide air transportation to Crete.
• Cretan ferry boats will take you to the main cities including Piraeus - Chania, Rethymnon, Heraklion, and Agios Nikolaos.
• Cruise lines routinely include stops to Crete.
• The KTEL (Minoan Lines) bus line offers services from city-to-city in Western Crete.
• Rental cars are also available.
• Chania (Hania) International Airport, Crete (CHQ) map
• Heraklion (Iraklion or Iraklio / Nikos Kazantzakis) International Airport, Crete (HER) map
• Sitia Public Airport (JSH) map