Travel Area: Cyclades Islands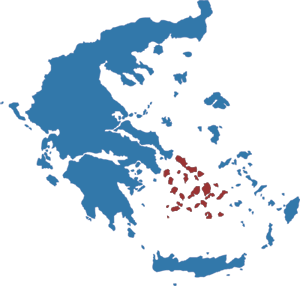 About Cyclades Islands, Greece
The Cyclades are a group of about 220 Greek islands in the Aegean Sea, south-east of the mainland of Greece. While most of the smaller islands are uninhabited, tourists love the weather on these Cyclades islands; Amorgos, Anafi, Andros, Antiparos, Donoussa, Folegandros, Ios, Kea, Kimolos, Koufonisia, Kythnos, Milos, Mykonos, Naxos, Paros, Santorini, Serifos, Sifnos, Sikinos, Syros, Tinos.
Fun Facts
Mykonos and Santorini are the most popular of all the Greek islands.
Agricultural produce includes wine, fruit, wheat, olive oil, and tobacco.
Naxos is the largest of the Cyclades Islands.
Sightseeing Suggestions
The Church of Panagia on Tinos
The fortified capital of Andros, a combination of Venetian and Cycladic architecture.
The nightlife of Mykonos and Ios.
The volcanic islands of Santorini
The mediaval village on Syros.
Transportation
Ferry boats will take you to the inhabited islands.
Milos Island National Airport (MLO) map
Mykonos Island International Airport (JMK) map
Naxos Island National Airport (JNX) map
Santorini (Thira) National Airport (JTR) map
Gyros Island National Airport (JSY) map