Travel Dodecanese Islands, Greece
Travel Area: Dodecanese Islands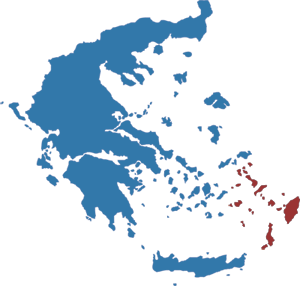 About Dodecanese Islands, Greece
The Dodecanese islands include Astypalea, Leros, Lipsi, Nisyros, Kalymnos, Karpathos, Kastellorizo, Kos, Patmos, Rhodes, and Tilos and are located in the South East area of the Aegean Sea with some near Turkey. These islands are know for their beautiful and clean sandy beaches.
Fun Facts
• Mediterranean seals, dolphins, turtles find refuge in the coastal caves of the Dodecanese Sea.
• There are hundreds of small, uninhabited islands in the Dodecanese.
Sightseeing Suggestions
• The castle on Rhodes.
• The Acropolis of Lidnos.
• The Monastery of Filerimos
• The Venetian Castle of Astypalea.
• The archaeological site of Asklepieion on Kos.
• The Venetian Castle of Antimachia on Kos.
Transportation
• Airplanes and ferries provide transportation to and from these islands, with charter flights available from various European cities from April through October.
• Karpathos Island National Airport (AOK) map
• Kastelorizo Island Public Airport (KZS) map
• Kos (Cos) Island International Airport (KGS) map
• Leros Island National Airport (LRS) map
• Rhodes (Rodos Diagoras) International Airport (RHO) map