Travel Area: Ionian Islands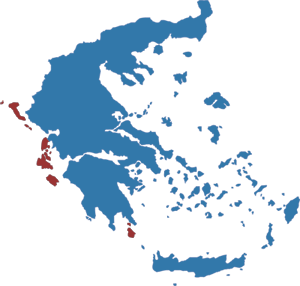 About Ionian Islands, Greece
The Ionian Islands consist of mostly mountainous terrain and warm, humid climates. Corfu, Paxi, Lefkada, Ithaki, Kefalonia, and Zakythos are located off the west coast of mainland Greece and Kythira is located of the Southern tip of the Peloponnese. These islands are known for their sandy beaches, clear waters, and village charms.
Fun Facts
The major industry for the Ionian Islands is tourism.
Kefalonia is the largest of the Ionian islands.
Sea turtles lay their eggs on Zakynthios.
Sightseeing Suggestions
Windsurfing at Lefkada.
The nightlife on Corfu.
The National Park on Kefalonia.
The Monastery of Virgin Mary Myrtiotissa on Corfu.
The Achillion Palace on Corfu.
The Old and New Fortresses of Corfu.
The Monastery of Panagia Katharon on Ithaki.
The Folklore Museum of Paxi.
Transportation
Transportation to and from these islands include air, ferries, bus, and railway travel.
Corfu (Kerkyra / Ioannis Kapodistrias) International Airport (CFU) map
Kefalonia (Cephalonia) Island International Airport (EFL) map
Kithira Island National Airport (KIT) map
Zakynthos International Airport (ZTH) map