Travel Northeast Aegean Islands, Greece
Travel Area: Northeast Aegean Islands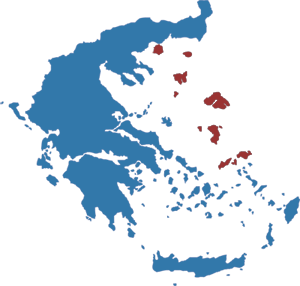 About Northeast Aegean Islands, Greece
The Northeast Aegean Islands are a group of islands in the Aegean Sea. Mainland Greece is to the west and north, Turkey to the east, the island of Crete to the south. These islands, Chios, Fourni, Ikaria, Lesvos, Limnos, Psara, Samos, Thassos are less traveled than the Cyclades and the Dodecanese Islands.
Fun Facts
• Ikaria is the mythological island of Ikaros.
• Samothraki has the highest mountain of the Aegean Islands.
• The mathematician Pythagoras was born on Samos.
Sightseeing Suggestions
• Nea Moni Monastery in Chios.
• Petrified Forest of Lesbos.
• Efpalinion Tunnel on Samos.
• Byzantine Museum on Chios.
• Ancient ruins at Kastro, Chios.
• The Temple of Athena on Thassos.
Transportation
• Airplanes, ferries, speed boats will take you to the Aegean Islands.
• Chios Island National Airport (JKH) map
• Lemnos International Airport (LXS) map
• Mytilene (Lesvos or Lesbos) International Airport (MJT) map
• Samos International Airport (SMI) map