About Foti Fotiu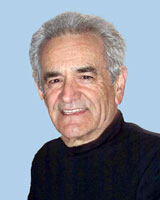 Born in Instanbul (Constantinople), Turkey in 1942, Foti Fotiu emigrated to Brussels, Belgium then to the United States to Albany, New York in 1962. He served in United States Army as a medical specialist, then as an Ddministrative Director of the Department of Radiology at Bassett Healthcare Network.
CONSTANTINOPLE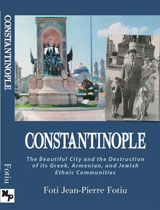 CONSTANTINOPLE – the name alone evokes an aura of past history and grandeur. The author, Foti Jean-Pierre Fotiu, brings the past to life. Chapter by chapter, he describes the historical background of the region, draws together the various threads, and brings it all together by weaving a tapestry that depicts the current times. Moreover, he connects the city – renamed Istanbul in 1930 – to his very personal story, telling the readers how his father, as a young man, migrated there, settled in the great city, established his construction business, married, and raised a family.
Readers will enjoy the writer's experiences as he describes the days and times of his youth, and the social and religious life, both in the Greek community and in the wider area. His narrative includes an overview of the political manipulations that lead to deteriorating relations between the authorities and the city's Greek inhabitants, as well as first-hand accounts of the time of terror on September 5th and 6th, 1955, and its aftermath, suffered by the city's ethnic Greeks, Armenians, and Jews.
Fotiu astutely analyzes the national and international reactions to the catastrophe and the circumstances that compelled his family, and thousands of other ethnic minorities, to leave Istanbul.
The author's own family first gets away to Belgium, then finds a permanent haven in the United States. Final chapters of the book deal with both his own outlook and the global state of affairs Fotiu finds when he re-visits the land of his birth and updates the city's and region's chronicles to the present. Especially poignant is the portrayal of the remnant of once prosperous ethnic communities, as well as the diminished circumstances of the Greek (Eastern) Orthodox Ecumenical Patriarchate.
What Next?