Patricia Volonakis Davis, Author
About Patricia Volonakis Davis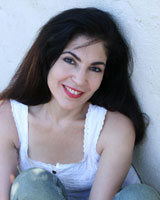 Patricia Volonakis Davis is the founder and editor-in-chief of Harlots' Sauce Radio e-magazine at www.harlotssauce.com. Her essays, opinion articles and celebrity interviews have appeared in various newspapers and magazines nationally and internationally. She is the author of "If This Woman is Being Operated Recklessly," and other published poems on women's issues. She holds a Master's Degree in Creative Writing and Education from Queens College and C.W. Post University, and has taught extensively in private and public high schools in The United States and in Greece.
In 1995, Patricia emigrated to Athens, Greece, where she founded an education service, Serafim Books, named for "a good book is like a guardian angel." Serafim Books gained international acclaim for its dedication to education and its philanthropic work with organizations such as Make-A-Wish Greece chapter and TESOL Greece, where Patricia served as vice-chair. During this time, Scholastic International, publishers of children's books and educational materials, appointed Patricia their exclusive representative of Greece, Cyprus and Turkey.
Harlot's Sauce: A Memoir of Food, Famiily, Love, Loss, and Greece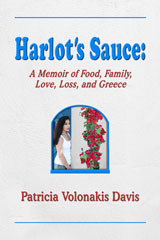 Patricia's first non-fiction book, Harlot's Sauce: A Memoir of Food, Family, Love, Loss and Greece is an Award-Winning Finalist in the "Multi-cultural Non-fiction" category of the National Best Books 2008 Awards, sponsored by USA Book News.
Patricia currently resides in Northern California and is hard at work on her latest manuscript.
What Next?