Lazar (Larry) Ozdak, Author
About Larry Ozdak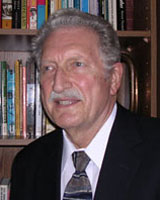 Lazar "Larry" Odzak was born to first generation immigrant parents in Alaska, a few years before it became the 49th state. Drifting south, he completed his studies at the University of Florida, concentrating on 19th and 20th Century US History and specifically on the fields of Immigration and Ethnicity.
In 1998, he moved with his wife Hope to Durham, North Carolina. After being a visiting scholar at the University of North Carolina - Chapel Hill, for the past ten years and until the present, Larry is an Archivist-Historian at the North Carolina Archives, at the State's Department of Cultural Resources, in Raleigh, NC.
In 1984, Larry joined the AHEPA [American Hellenic Educational and Progressive Association], and has remained an active member at the Chapter and District levels. Both Hope and Larry are engaged parishioners in their local St. Barbara Greek Orthodox Church.
Demetrios Is Now Jimmy book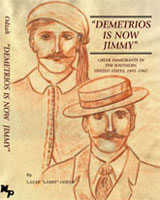 Larry has written a number of articles on his favorite topics - Immigration and Ethnicity - as well as edited works of other authors. He has also completed a book, titled "Demetrios Is Now Jimmy:" Greek Immigrants in the Southern United States, 1895-1965 which explores the arrival of Greek immigrants to the southern urban areas of the US and their remarkably rapid adjustment and acculturation to life in the New South. Many immigrants became entrepreneurs and achieved economic prosperity. These newcomers adapted to the evolving American social, economic, and political tenets while retaining their own cultural and religious traditions.
An enduring interest in the chronicles of Immigration and Ethnicity, potent forces in American History, will sustain his research and writing.
What Next?