Irene Kacandes, Author, Professor
About Irene Kacandes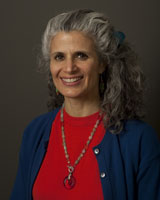 Irene Kacandes is a professor of German and comparative literature at Dartmouth College in Hanover, New Hampshire, and the author of several books, including Talk Fiction: Literature and the Talk Explosion (Nebraska 2001).
When she was very young, Irene Kacandes knew things about her father that had no plot, no narrator, and no audience. To her childhood self these things resembled beings who resided with her family, like the ancestresses who had thrown themselves off cliffs rather than be taken by the Turks, or the forefathers who had fought the Trojans. For decades she thought of these cohabitants as Daddy's War Experiences and tried to stay away from them. When tragedy touched the adult life she had constructed for herself, however, she realized she had to confront her family's wartime past.
Daddy's War: Greek American Stories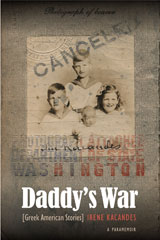 Kacandes begins with what she did know: that her immigrant grandmother returned to Greece with four young children – and without her husband – only to get trapped there by the Nazi occupation. Though still a child himself, her father, John, helped feed his younger siblings by taking up any task possible, including smuggling arms to the Resistance. Kacandes painstakingly uncovers a complex truth her father chose not to tell, a truth inextricably entwined with the Holocaust, discovering, too, a common but little-told story about how the telling of such memories is negotiated between survivors and their children.
Daddy's War brings new understanding to how trauma, like the revenge of Greek gods, can visit each generation and offers a model for breaking the cycle.
What Next?